Millions of postcards target independent voters across state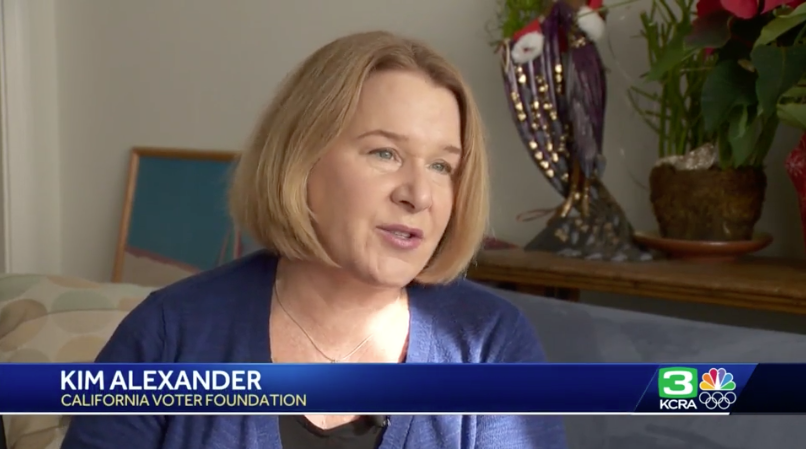 Excerpt:
SACRAMENTO, Calif. —
A record number of Californians are now registered to vote -- more than 20.3 million. 
Of those voters, about 5 million are now getting postcards in the mail with an important message about the presidential primary that's scheduled for March.
Those voters will either have to request a different ballot or re-register to vote.
Here's what you need to know:
1) It's the holidays! Why should I pay attention to a postcard about voting? 
Those postcards are timely. Otherwise independent voters -- the ones registered with No Party Preference -- may be in for a big surprise before California's presidential primary in March. 
"They're not going to receive a ballot with presidential candidates unless they take some action," said Courtney Bailey-Kanelos, Sacramento County's Registrar of Voters.
In California, the Democratic Party is open to all voters, but voters registered as No Party Preference must request a crossover ballot to participate. For the Republican Party, those supporting President Donald Trump or another candidate must be registered as Republicans because that primary is closed to only members of the GOP.
"It's a good practice for all voters, regardless of party preference, to verify your registration status," said California Secretary of State Alex Padilla.
Padilla said voters can go to the Secretary of State's website to confirm their address and party preference. Voters can also make changes to their party registration by going to the Secretary of State's voter registration website.
2) I registered to vote at the DMV and my party registration is wrong. How did that happen?
If that happened to you, then you are not alone.
The California DMV has processed some 14 million voter registration applications since April 2018. Most have been handled successfully, but problems persist even today.
"Our office has received over 200 calls from people not remembering how they registered," Bailey-Kanelos said. "About two-thirds of those were from DMV transactions from 2018."
----
Complaints about registration errors at the DMV have also surfaced at the nonpartisan California Voter Foundation.
"You might have been inadvertently re-registered as a No Party Preference voter because the screens were confusing in the way they were designed," said Kim Alexander, with the California Voter Foundation. 
The Secretary of State's Office said the DMV has addressed the problem with a new format for voter registration. 
"We feel pretty confident they've been resolved," Padilla said. "The mistakes, or the errors in the New Motor Voter program that were at the onset of the program, were caught, addressed and clarified at that time."
The DMV said it works "closely with the Secretary of State's office to ensure the integrity of the New Motor Voter program." 
"The DMV is not aware of any recent large-scale issue with the New Motor Voter system related to party preference or voter registration," Deputy Director Anita Gore said in a statement. "Recent claims of large-scale issues are unsubstantiated." (full story)