Visit www.calvoter.org to find reliable election information online
Hi Folks,
We are very pleased to debut our newly redesigned web site!
Please visit www.calvoter.org and have a look - we are excited to debut our new logo as part of the site redesign as well.
CVF has been serving voters online continuously at www.calvoter.org since 1996. As you might imagine, organizing 22 years' worth of content, projects, studies and newsletters took quite a bit of work. We managed to do this by creating new menus to navigate our content by topic and also by creating and linking to archived content in a new "CVF Archive" web site. 
The new site also featured CVF's newly adopted Program Goals, focused on treating voters equally, promoting funding for elections and advancing voting security. 
I'm very grateful to CVF's technology consultant, John Jones, who managed this transition to an updated, Drupal platform, as well as the CVF Board of Directors for their ongoing input and guidance over more than a year while this site has been in development.
We are also very appreciative of the support CVF has received from the James Irvine Foundation, which enabled the creation of this new site, and to all of CVF's donors who support our work improving the voting process to better serve voters.
Your feedback is welcome and appreciated!
- Kim Alexander, President & Founder
California Voter Foundation
---
CVF's newly redesigned web site features the California Online Voter Guide, a great starting point for voters looking for reliable, nonpartisan election information about the candidates and measures on California's November 2018 ballot, including: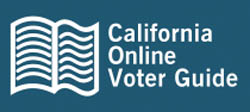 A Directory of County Election Offices so voters can contact their local election officials with their voting questions
A Voting FAQ providing answers to California voters' questions
Voters Edge, CVF's favorite "one-stop shop" for customized information about every contest on a California voter's ballot, based on street address
Links to voter lookup tools
Important dates and deadlines