Hi Folks,
The California Gubernatorial Recall Election is here, and this has certainly been an election like none other. This edition of CVF-News highlights CVF's online voter resources and reviews election security practices, news and claims and CVF's efforts to curtail harmful election mis- and disinformation. 
-- Kim Alexander, President & Founder
California Voter Foundation
---
Find Election Info at Calvoter.org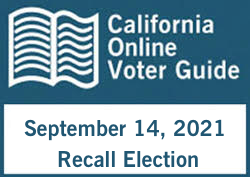 CVF's California Online Voter Guide connects voters with information from trusted sources. Through CVF's online guide, voters can follow the money behind recall campaigns, learn more about potential replacement candidates, get tips on how to successfully cast a vote-by-mail ballot and more. Ballots submitted through the U.S. Mail must be postmarked by September 14th and received within seven days to be counted. Voters choosing to cast their ballot by mail are urged to return it early and avoid having their ballot rejected due to lateness. 
---
Where and When to Vote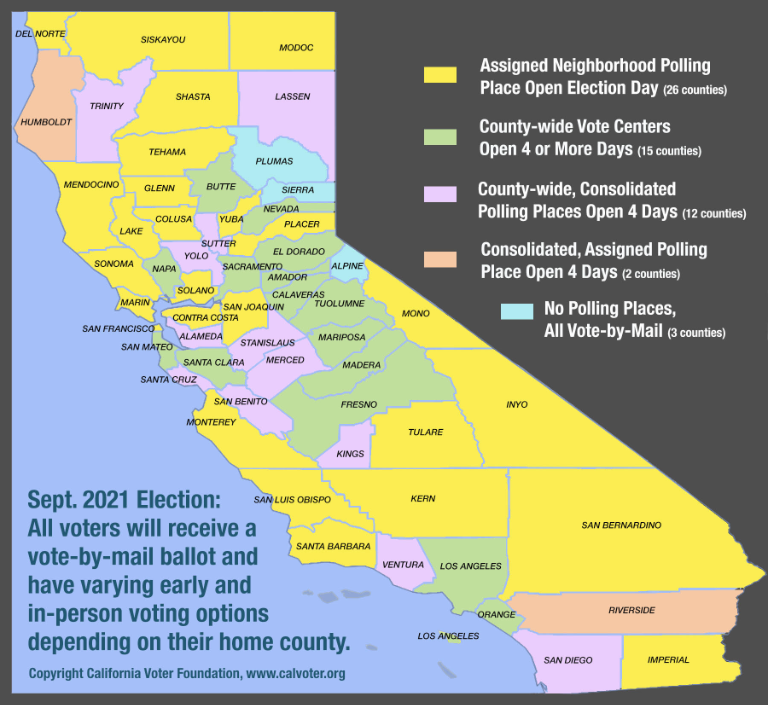 While September 14th is the Recall Election date, vote-by-mail voting is already well underway with millions of ballots already returned by mail or to drop boxes. All 58 counties mailed every registered voter a ballot beginning August 16th and also provide in-person voting sites for all voters on September 14th from 7am-8pm. Many counties offer in-person early voting as well.
Check out CVF's newly updated In-Person Voting Methods map to see what options are available in each county and visit CVF's Online Voter Tools - Check Your Status page for links to great resources like the Secretary of State's early voting and ballot drop-off lookup tool and polling place lookup tool. CVF's Directory of County Election Offices provides county contact information and links to their web sites and lookup tools. 
---
Addressing claims and questions about California election security
There is a growing chorus of cries that California's election is not secure. Some of these claims are coming from people providing no evidence to back them up. Some are coming from people who are questioning aspects of California election administration practices that they don't understand (like the use of accessibility holes by some counties in ballot return envelopes to help guide low-vision voters to the signature box). Some are fueled by a dramatic incident where 300 ballots were found in a man's car in Southern California, leading some to conclude it was evidence that people are trying to steal the election (while this case is still under investigation, it appears likely the ballots were collateral damage in a case of attempted mail theft to rob people of checks, not ballots). 
Compared to other states, California makes it easy for people to vote, but it's not simple. Every county does things a little differently, from how they lay out their ballots, and what their ballot return envelopes look like, to what kind of in-person voting options are available, whether neighborhood polling places or county-wide vote centers. These variations contribute to misinformation and confuse voters, which is why CVF has long advocated for more consistency in how Californians participate in and experience elections. This can be achieved by the state requiring consistency across all counties and paying its fair share of election administration costs. 
While some have raised fears about the breach of a voting system vendor's software at a recent event, the possibility of a software leak is a well-known election security risk and a scenario for which election officials plan. 
California was, in fact, the first state in the nation to mandate voter-verified paper trails when utilizing computerized voting systems precisely because of this kind of risk. Additionally, every vendor's voting system software source code is reviewed for potential security vulnerabilities, and hardware is stress- and volume-tested. The results of vendors' tests are publicly posted on the Secretary of State's web site. California also requires post-election audits and has done so for over half a century, ever since software vote counting was first introduced in the 1960's. California has the most rigorous voting system testing and certification process in the nation. 
Every county election office must select ballots from one percent of their precincts at random and publicly recount them by hand to show the hand-counted totals match the software-counted results. Anyone can go and watch this process. We also have extensive laws and regulations to preserve chain of custody and ensure two people are with ballots at all times as well as strong penalties for election interference. 
In light of the alarming and unsubstantiated claims being made, California's election officials can and should work to raise awareness of the state's long-standing election verification laws and security procedures and improve how we report the results of post-election audits to the public. 
---
Election Security and Disinformation in the News
Election security concerns and claims have been well-covered by the media, with numerous stories featuring comments from CVF including on KPIX-TV and in CalMatters, Politico, the Sacramento Bee and Politifact. 
On social media, election mis- and disinformation runs rampant. That's why CVF joined with several other voter advocacy groups last week in sending a letter to the heads of the major social media companies providing six steps they can take to protect California's and future elections from harmful mis- and disinformation. 
---
About the California Voter Foundation

The California Voter Foundation is a nonprofit, nonpartisan organization working through research, oversight, outreach and demonstration projects to improve the election process so that it better serves the needs and interests of voters. CVF-News is a free, electronic newsletter featuring news and updates about the California Voter Foundation's projects and activities.