The California Voter Foundation (CVF) joined with six other California-based nonpartisan voter advocacy groups to urge Shasta County supervisors to reconsider their decision in January to end the county's use of its current voting system provided by Dominion and seek an alternative vendor.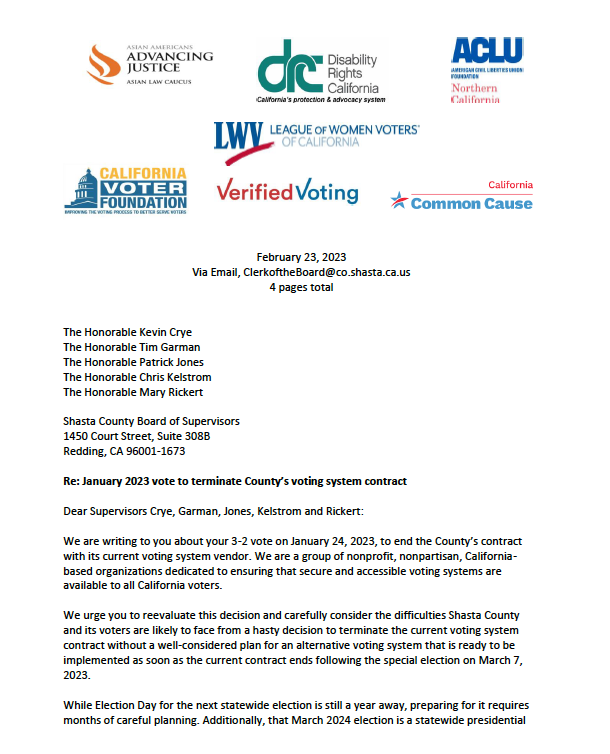 In a four-page letter sent to the Board of Supervisors on February 23, the organizations - including  ACLU Foundation of Northern California, Asian Americans Advancing Justice-Asian Law Caucus, California Common Cause, California Voter Foundation, Disability Rights California, League of Women Voters of California and Verified Voting - warned the supervisors that changing the county's voting system less one year prior to the time when Presidential Primary ballots are sent to voters could harm voters and cause unintended consequences and administrative challenges leading to erosion in voter trust - the very issue supervisors are attempting to address.
The nonprofits' letter also reminds supervisors of federal and state laws requiring counties to meet language accessibility needs and also ensure voters with disabilities can vote privately and independently, writing, "Their needs will be unmet not only if the County fails to have another voting system in place prior to the next election but also if elections staff and poll workers do not have sufficient training on a new voting system to be able to instruct voters on how to use accessible equipment." The organizations also endorsed an earlier statement issued by Disability Rights California summarizing these concerns and risks.
The groups' letter features former President Ronald Reagan's famous "Trust, but verify" quote also spells out how "California's voting systems are governed by numerous state requirements that facilitate accurate and verifiable election results. California law requires counties to conduct a public hand recount for every contest in at least one percent of its precincts, selected at random after each election to examine the accuracy of the software vote count. Some counties carry out additional risk-limiting audits to further check for correctness. All California voting systems must go through rigorous source code, hardware, volume, functional, telecommunications, privacy, usability, and accessibility testing before they are certified and available for purchase and deployment. These test results are publicly available on the California Secretary of State's web site." 
Shasta's County Clerk/Registrar of Voters is giving office tours and holding an Open House today at the local veteran's hall from 12-7 pm to provide the public and supervisors an opportunity to view current and possible replacement voting systems. Shasta County Clerk/Registrar of Voters Cathy Darling Allen, (who also serves as CVF's board chair) issued a letter inviting the public to attend the open house and is also conducting an online survey of voters to receive public feedback on the county's election process.
The supervisors will meet again on Tuesday, Feb. 28th beginning at 9 am. to consider options and costs involved in procuring a new system or rescinding the prior decision (Item # R 13 on the 2/28 agenda) as well as whether to accept a $1.5 million grant from the Center for Tech and Civic Life awarded to the county as part of its new U.S. Alliance for Elections Excellence program (Item # R 3) and consider options for developing a voting system pilot program and hand counting ballots in the future (Item # R 4).
The supervisors' meeting will be live-streamed and a transcript available. Public testimony may be provided in-person only. The local online news organization Shasta Scout covered these upcoming board items in a story this weekend, and also reported on the Board's January 24th decision.
Dominion provides voting systems for 40 of California's 58 counties and is one of three commercial vendors whose voting equipment is certified to be sold and used in California (the other two are Hart and ES&S). A chart showing the equipment used in each county is available from the Secretary of State.
As 60 Minutes reported last October, Dominion has filed eight lawsuits against Fox News and other parties seeking billions in damages resulting from false claims made against the company, resulting in harms such as the Shasta Board's January vote.
-end-