Hi Folks,
This morning I headed over to the California Secretary of State's office, where a public hearing was taking place to receive comments on the state's proposed Ballot Counting regulations. Comments are due by midnight, July 5th. 
These regulations are being developed by Secretary of State Shirley Weber and her staff to provide county election officials with a framework for using people rather than computers to count California ballots.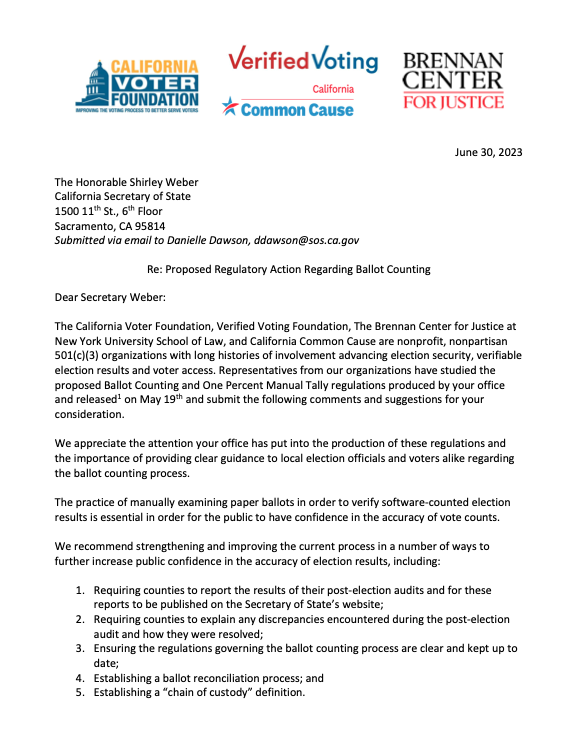 In response to the request for comment, CVF joined with Verified Voting Foundation, The Brennan Center for Justice at the NYU School of Law and California Common Cause to share our input and concerns. Our letter is available here and emphasizes our support for manually examining paper ballots to verify software vote counts, noting it is essential for public confidence in the reliability of election results. 
We also express concern that relying solely on hand counting in any but the smallest jurisdictions will not receive the level of assurance necessary to ensure equal treatment of voters' votes.
Our letter details several jurisdictions in other states that have undertaken manual tallies that did not go well, and asks the regulations to enable the public both in person and offsite to observe and check the accuracy of the cumulating board's calculations.
We also support requiring counties to
report the results of their post-election audits and publish those reports on the Secretary of State's website; and
explain discrepancies encountered during post-election audits and how they were resolved.
We also support requirements that all ballots counted in a full manual tally be imprinted with a unique serial number and imaged to preserve the ballot's appearance before it is handled by potentially dozens of people. And we support the requirement that counties use a certified voting system to verify the manual tally results. We also call for the regulations to include a definition for "chain of custody". 
These regulations are being developed in response to Shasta County supervisors' vote earlier this year to manually tally all of the county's ballots in future elections. Nothing like this has ever been attempted in California before and some folks in other California counties appear to want to do something similar. As it happens, CVF's board chair, Cathy Darllng Allen, is the Registrar of Voters for Shasta County and responsible for developing a plan for manually tallying her county's voters' ballots, which will include hiring hundreds of people and leasing extra space to conduct it. 
Meanwhile, legislation is moving quickly in the State Capitol to prohibit relying solely on manual tallies in elections with more than 1,000 potential voters. AB 969, authored by Santa Cruz Assemblywoman Gail Pellerin (also former registrar of voters for that county) would, if enacted, also prohibit a county's board of supervisors from ending the use of a certified voting system without having another system ready to use (as Shasta County also did earlier this year, ending its contract with Dominion without any plans for another system to use). AB 969 has an urgency clause which means if it is signed into law this year it will take effect before the next election is held in Shasta County. 
One thing I have come to appreciate about voters and their leaders in Shasta County these past few months is that everybody wants the same thing. As I said to Annelise Pierce in her recent Shasta Scout story profiling my work with CVF, the base value Shasta County's voters share on both sides of the aisle is that they all want their votes to count. That's what everyone wants. 
That's what I kept in mind today as I listened to the testimony of concerned California voters who drove great distances to testify at today's hearing, and what I'll be thinking about over this 4th of July holiday. 
--Kim Alexander, President & Founder
California Voter Foundation
---
About the California Voter Foundation
 

The California Voter Foundation is a nonprofit, nonpartisan organization working through research, oversight, outreach and demonstration projects to improve the election process so that it better serves the needs and interests of voters. CVF-News is a free, electronic newsletter featuring news and updates about the California Voter Foundation's projects and activities.