Hi Folks,
This edition of CVF-News highlights resources on our web site to help voters cast ballots, election news coverage and upcoming public events where I will be speaking and answering voters' questions.
Also, a brief word about the topic of "ballot harvesting" which has received a lot of attention this week. The California Republican Party placed ballot drop boxes in several counties that appear to be in violation of California election law which allows third-party ballot return but specifies the ways that others may return a ballot on behalf of a voter and those ways do not include the recipient of another voter's ballot passing it on to another person or entity to return. California Secretary of State Alex Padilla and California Attorney General Xavier Becerra filed a "cease and desist" order on Oct. 12, which the CA GOP responded to on Oct. 14 with details of how they are modifying their activities in ways they believe conform with the law.
In the meantime, now is a good time to remind voters that there are many easy ways to return ballots themselves, via the US Mail, drop boxes, directly to their county election office or at any voting site once they are open. If you do entrust someone else to return your ballot for you, be sure to sign and date your envelope and to also ensure that person fills out their name and relationship to you and provides their signature on your ballot envelope as well so that you know they are being accountable and taking responsibility for safely and securely returning your ballot on your behalf.
For a brief explainer on "ballot harvesting" see this week's ABC 10 Sacramento story. Check out CVF in the News for other recent stories and interviews about casting vote-by-mail ballots in California. And don't forget, Monday, Oct. 19 is California's voter registration deadline and the last day to register or update your registration and ensure you will receive a vote-by-mail ballot in your mailbox. 
Calvoter.org, Offers Voters Reliable, Nonpartisan Election Info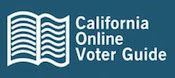 CVF's web site features the California Online Voter Guide, a nonpartisan internet resource CVF has produced for California voters for every statewide election since 1994.
The guide highlights key election dates and valuable resources from the California Secretary of State as well as Voters Edge, produced by the League of Women Voters and Maplight, to help voters decide on candidates and measures.
Other features include CVF's 2020 Election social media graphics, CVF's new 2020 election song and music video, The Voting Way, (also available with Spanish-language captions) CVF's Contact Your County Election Office roster, and Online Voter Tools - Check Your Status to help voters verify their registration and ballot status and locate early voting, drop box and Election Day voting sites.
CVF's site also now features a map showing each county's in-person voting methods. Earlier this year the Legislature enacted emergency legislation that directed counties to mail all active, registered voters a vote-by-mail ballot for the Nov. 3 election and also allowed counties to consolidate voting sites in light of the pandemic and challenges locating and staffing traditional polling places at a ratio of one per every 1-2,000 voters.
For the Nov. 3 election, in-person voting options vary among California's 58 counties. In 16 counties, voters will have access to traditional, neighborhood polling places open on Election Day. Other counties have consolidated polling places, providing at least one per every 10,000 registered voters that are open Election Day plus for three days of early voting. In 17 counties with consolidated polling places, voters can vote at any site in their county; in 7 counties with consolidated polling places, voters are assigned to a specific site. There are also 15 Voter's Choice Act counties, which have vote centers open at least 4 days (including Election Day) and may be open up to 10 days before the election as well depending on the county. Three counties are all vote-by-mail counties with no polling places or vote centers.
In all counties, voters have the ability to vote in person at their county election office during business hours, but in some counties an appointment is required to do so. Check the Secretary of State's web site for information on early voting opportunities and secure, authorized ballot drop off locations in each county.
Upcoming Public CVF Webinars and Events
CVF President Kim Alexander will be speaking at several events that are free and open to the public (click on the links below for details on how to watch or listen). Topics will include CVF's rejected ballots study findings, how to ensure your vote-by-mail ballot will get counted, and answering voters' questions.
Ensure Your Vote Counts with Kim Alexander
Wednesday, Oct. 21, 4-5 pm
University of the Pacific's "Pacific Talk" Series
California Initiative Forum
Wednesday, Oct. 21, 5:30-7:30 pm
McGeorge School of Law
Answering Voters' Questions Live
Wednesday, Oct. 21, 10-11 am
KQED FM's "Forum" program
About the California Voter Foundation
The California Voter Foundation is a nonprofit, nonpartisan organization working through research, oversight, outreach and demonstration projects to improve the election process so that it better serves the needs and interests of voters. CVF-News is a free, electronic newsletter featuring news and updates about the California Voter Foundation's projects and activities.
Support CVF's work with a tax-deductible contribution!