Hi Folks,
Last Friday, Governor Gavin Newsom signed an executive order requiring counties to mail all registered voters a vote-by-mail ballot for the November 3 Presidential Election. This CVF-News covers this important development and Future of California Elections' Virtual Conference happening on May 14th, which will include a panel on vote-by-mail that I'll be moderating. I hope you can sign up and participate!
And a big thank you to everyone who donated to CVF for last week's Giving Tuesday and Big Day of Giving! CVF had a very successful fundraising week and the Sacramento region raised $12 million for 600 nonprofits, exceeding the prior record by more than $3 million. These past few months have been challenging but also inspiring to see how supportive people are of the nonprofit sector in times of need. 
-- Kim Alexander, President & Founder, California Voter Foundation

---
Governor Newsom signs executive order requiring counties to mail all voters a November ballot
On Friday, May 8, California Governor Gavin Newsom signed an executive order requiring all 58 counties to mail every registered California voter a vote-by-mail ballot for the November 3 presidential election.
The order is viewed as a floor, not a ceiling, and Gov. Newsom said at his Friday news briefing that he is working with Secretary of State Alex Padilla and legislative leaders on a detailed plan to safely provide for in-person voting which he wants to have in place by the end of the month. 
The chairs of the legislature's elections committees, Senator Tom Umberg and Assemblyman Marc Berman, sent a letter to Governor Newsom on May 6 outlining their plan for scaling back in-person voting while expanding early voting and access to ballot drop boxes. It's anticipated their proposal will be advanced through two bills, Assembly Bill 860/Berman and Senate Bill 423/Umberg.
With Gov. Newsom's executive order, California becomes the first state to announce plans to mail every registered voter a ballot due to the coronavirus pandemic. Counties are making plans now to meet this requirement and also wondering how much funding the state will be providing to facilitate mailing ballots to over 20 million voters and educating voters about how to return them. The governor's "May Revise" budget update is expected to be released soon and will hopefully provide some funding answers. 
For more on this important development, see John Myers' Los Angeles Times story and KCRA News' coverage.
The week prior, on April 28, Los Angeles County's Board of Supervisors voted to mail all of the county's registered voters a ballot for November as well, in response not only to the coronavirus pandemic but also because of the widespread problems and long lines many Angelinos experienced on March 3. 
Prior to the board's meeting, LA Registrar of Voters Dean Logan provided the supervisors with a 134-page report detailing his office's response to the supervisor's numerous questions the board agreed to investigate at its March 10th meeting. An additional report details the election office's strategies for achieving 100 percent mail ballot delivery to the county's 5.5 million registered voters - a tall order for the most populous voting jurisdiction in the state and nation. 
---
Future of California Elections' May 14 Virtual Conference: Responding to This Moment in Elections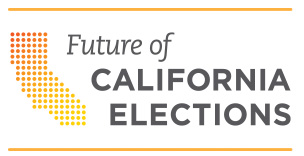 Join Future of California Elections (FOCE) for a three-hour virtual conference on May 14th and learn how California's elections community is planning for November.
The conference will feature three panels covering election preparedness, voting by mail, and language access, with remarks from Secretary of State Alex Padilla and Election Assistance Commission Chairman Benjamin Hovland. Get a sneak peek on the second panel of new research CVF is conducting on vote-by-mail ballot rejection.
The conference will take place on Zoom from 1-4 pm. Registration is required and free - a donation to support FOCE's work is welcome and encouraged.