Hi Folks,
The November 8th election is rapidly approaching and we are excited to share CVF's new California Online Voter Guide!
As California voters, we have enormous power to decide how our state is governed. But with all this power comes responsibility. And mystery. And confusion. And disinformation.CVF's voter guide is a starting point to help Californians feel confident when voting. A few of my favorite resources to help sort out propositions include CalMatters' 2022 Voter Guide, the FPPC's Top Ten Donors lists, and Voters Edge. 
More details below and a big thanks to all the government agencies, news organizations and nonprofits that make reliable voting information publicly accessible and available to voters online.
-- Kim Alexander, President & Founder
California Voter Foundation
---
November 2022 California Online Voter Guide Debuts
Today the California Voter Foundation launched a new edition of its nonpartisan California Online Voter Guide to help voters access reliable and trustworthy information about their November 8, 2022, General Election choices, at www.calvoter.org.
Voters can cast their vote-by-mail ballot by mail, at an official drop box location, or by returning it to a voting site or their county election office. Voters also have the option to vote in person. 27 of California's 58 counties have adopted the Voter's Choice Act, an alternative voting model that replaces neighborhood polling places open for a single day with vote centers that, while fewer in number, are available to all voters countywide over multiple days, including Election Day. CVF's new guide features a map to help voters identify which in-person voting options are available to them (see the 2022 Election Map below).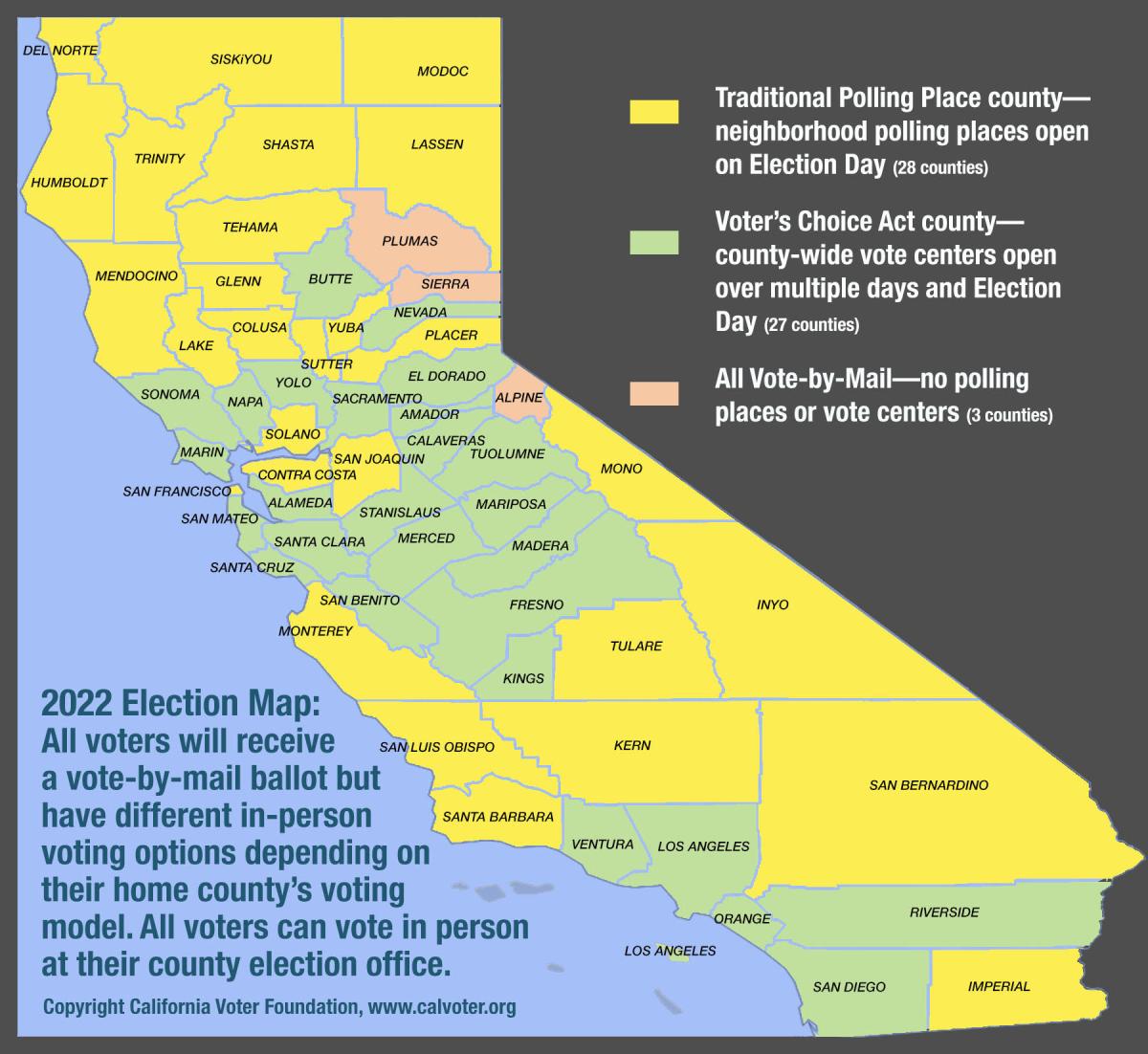 CVF's guide also highlights key resources from the Secretary of State as well as those offered by nonpartisan, nonprofit organizations, such as the League of Women Voters, Maplight, and CalMatters. It also features tips to help voters make sure their vote-by-mail ballot is counted, contact information for all 58 county election offices, a Voting FAQ, and links to tools that help voters find their new voting districts, track the status of their ballot, verify their registration status, and register or update their voter registration online.
CVF created its first online guide nearly three decades ago, in 1994, when it was one of only six election-related sites on the Internet at that time. CVF's archived guides remain available online at www.calvoter.org. The November 2022 online guide is the 31st edition produced by CVF, a nonprofit, nonpartisan 501(c)(3) organization working to improve the voting process to better serve voters.
---
About the California Voter Foundation
The California Voter Foundation is a nonprofit, nonpartisan organization working through research, oversight, outreach and demonstration projects to improve the election process so that it better serves the needs and interests of voters. CVF-News is a free, electronic newsletter featuring news and updates about the California Voter Foundation's projects and activities.