Hi Folks,
We are in the final stretch of the election! This edition of CVF-News features last-minute tips and resources to help California voters cast ballots with confidence. Follow CVF on Twitter at @calvotervdn and on Facebook for ongoing news and information.
- Kim Alexander, President & Founder
Last-Minute Tips for California Voters
Contact your county election office to find answers for most of your voting questions.
Where can you vote in person? What will be on your ballot? Where are official drop boxes located? Your county election office has answers to these questions, and CVF's Contact Your County Election Office page features each county's contact information, web site and links that help you verify your ballot status and find out where you can vote or drop off your ballot.
Make sure you get your ballot in on time.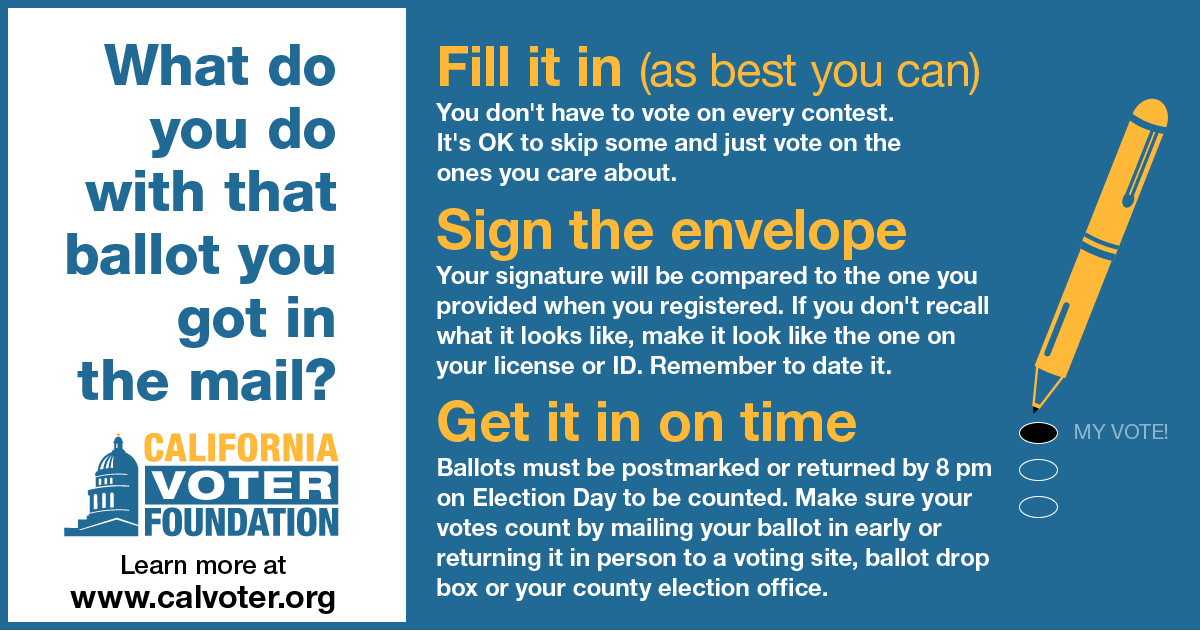 California allows ballots received by 8 pm or postmarked by Election Day to be counted as long as they are received within 17 days after the election. But putting a ballot in a mailbox on Election Day does not guarantee it will be postmarked by Election Day. CVF's recently released rejected ballots report found in Sacramento County's past three elections, most ballots rejected for lateness were due to being postmarked too late, not arriving too late to count. Voters who have not already returned their vote-by-mail ballots are urged to return them in person to a drop box, voting site or their county election office.
Use online lookup tools to check your status. 
CVF's Online Voter Tools - Check Your Status page links to official state and local lookup tools voters can use to verify their registration status, find an early voting, polling place or drop box location, sign up for ballot tracking or check the status of their ballot.
Visit CVF's California Online Voter Guide for reliable election information. 
Since 1994, CVF has published its nonpartisan California Online Voter Guide, to help Californians connect with reliable voting information and make informed choices. This year's voter guide also features social media graphics and CVF's 2020 election song and music video, "The Voting Way" (also available with Spanish-language captions).
Use Voters Edge to make informed voting decisions.
The best source for nonpartisan information about what's on California ballots is Voters Edge. Produced by the League of Women Voters of California and Maplight, this site unlocks a wealth of great, easy-to-use information about all the candidates and measures, including top donors and endorsements. It makes doing your voting homework much easier and helps Californians vote with confidence.
If you want to vote in person, do it early. 
Many counties are opening voting sites early and have consolidated polling places for this election. Check CVF's In-Person Voting Methods map to see what each county is providing. Voters who prefer to vote in person are encouraged to bring the mail ballot they were issued to turn in at a local voting site to ensure they can cast a regular, not provisional ballot. Voters who plan to vote on Election Day itself are advised to do so early and avoid potential lines that may form on Tuesday afternoon and evening. Voters who simply want to drop off completed vote-by-mail ballots typically do not have to wait in lines at voting sites to turn them in.
Be wary of alarming last-minute texts or messages.
We know from the 2016 election and from reports by security experts this year that foreign adversaries seek to suppress the vote through disinformation. Voters are encouraged to practice the SIFT method (Stop, Investigate, Find and Trace) before believing and sharing news or messages, especially if it is shocking or alarming.
Thank election workers for their hard work. 
Election officials and voting site staff are working long hours under extremely difficult conditions to ensure we have the right to vote. They are literally putting their lives on the line to serve democracy. When you interact with election workers, be supportive, kind and patient. They, like all of us, are doing the best they can in challenging times. And we could not have elections without them!
About the California Voter Foundation
The California Voter Foundation is a nonprofit, nonpartisan organization working through research, oversight, outreach and demonstration projects to improve the election process so that it better serves the needs and interests of voters. CVF-News is a free, electronic newsletter featuring news and updates about the California Voter Foundation's projects and activities.