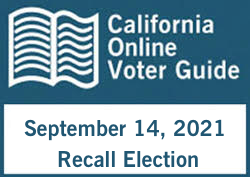 Voters looking for reliable information about the upcoming statewide recall election will find it online at www.calvoter.org/covg.
The California Online Voter Guide is a nonpartisan resource designed to help voters make informed choices and produced by the California Voter Foundation for every statewide election since 1994.
Earlier this year, proponents of a ballot question to recall Governor Gavin Newsom were successful in collecting enough signatures to qualify this question for the ballot, with the election date set for September 14th, 2021.
"It is a short but counterintuitive ballot question," said CVF President and Founder Kim Alexander. "Voters who are for keeping Gov. Newsom in office should cast a 'no' vote on the recall question. Voters who are against keeping him in office should vote 'yes' on the recall question."
The ballot also includes 46 candidates seeking to replace Gov. Newsom if a majority of voters participating in the election vote in favor of the recall. Some counties' ballots include local contests as well.
All voters, regardless of whether they vote "yes" or "no" on the recall question, may select one replacement candidate or skip this part of the ballot if they prefer to do so. If a majority of voters vote "yes" on the recall, the replacement candidate who receives the greatest number of votes will become the new governor.
CVF's California Online Voter Guide connects voters with information from trusted sources such as the Secretary of State, county election offices and Voters' Edge, provided by Maplight and the League of Women Voters of California. 
Through CVF's online guide, voters can follow the money behind recall campaigns, learn more about potential replacement candidates, find out what in-person local voting options are available in their county, get tips on how to successfully cast a vote-by-mail ballot, find their county election office, and access online tools to track their ballot, check their registration status and register or reregister online (the deadline is August 30th).
While September 14th is the Recall Election date, vote-by-mail voting is already underway. All 58 counties are required to mail every registered voter a ballot beginning August 16th, as well as provide in-person voting sites for all voters on September 14th. Many counties will be offering early, in-person voting sites as well, and voters statewide can vote anytime at their county election office during business hours. 
CVF's In-Person Voting Methods map shows what options will be available in all 58 counties.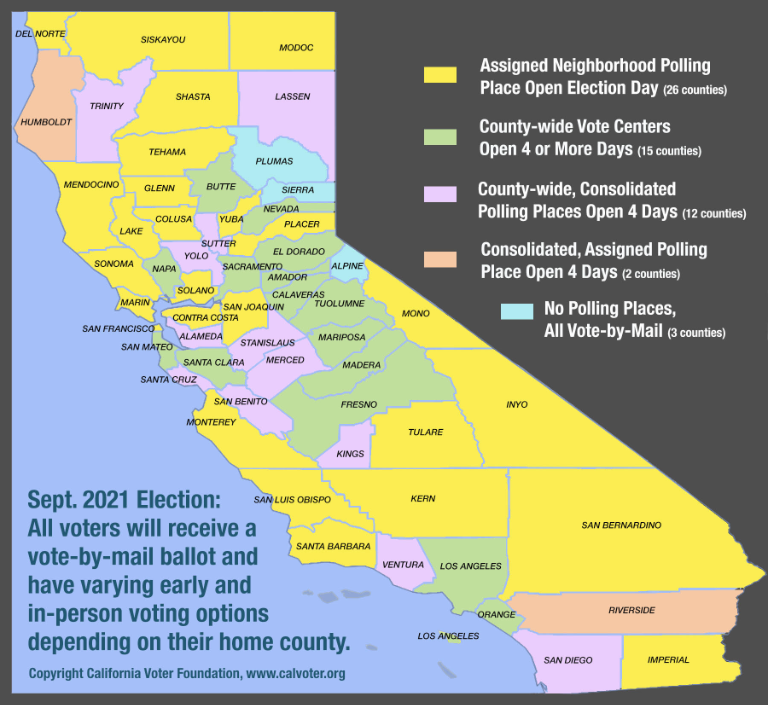 Ballots submitted through the U.S. Mail must be postmarked by September 14th and received within seven days to be counted. Voters choosing to cast their ballot by mail are urged to return it early and avoid having their ballot rejected due to lateness. 
The California Voter Foundation is a nonprofit, nonpartisan 501(c)(3) organization working to improve the voting process to better serve voters. CVF's 2021 Recall Election California Online Voter Guide is made possible thanks to generous contributions from CVF's donors. 
---
About the California Voter Foundation
The California Voter Foundation is a nonprofit, nonpartisan organization working through research, oversight, outreach and demonstration projects to improve the election process so that it better serves the needs and interests of voters. CVF-News is a free, electronic newsletter featuring news and updates about the California Voter Foundation's projects and activities.
Support CVF's work with a tax-deductible contribution!