1. Of California's 25.3 million eligible voters, 20.7 million, or 82 percent are registered as of February 18. This is this highest rate of registration heading into a California presidential primary in the past 68 years, according to California's Secretary of State Alex Padilla. California's Presidential Primary, which was held in June in 2012 and 2016, is taking place this year on March 3, Super Tuesday, in an effort to give California voters a greater say in deciding who the presidential candidates will be. 
2. For the first time, Californians can register at any voting site and vote on Election Day. Under SB 72, enacted in 2019, Californians can conditionally register and cast a conditional ballot at polling places if they have never been registered. Another law enacted just last month, SB 207, allows Californians who are registered but have moved within their county or wish to update their party preference to complete and sign a short form and cast a regular ballot. These reforms help voters who need to change their party preference so they can vote for the Presidential candidate of their choice, but may result in long lines at some voting sites on Election Day.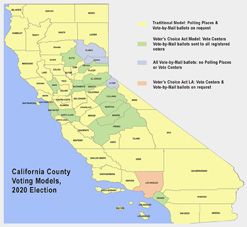 3. Fifteen California counties, comprising about half of the state's registered voters, are implementing a different model for voting this year. Called the Voter's Choice Act (VCA), this 2016 law provides counties the option of replacing neighborhood polling places with county-wide vote centers that are fewer in number but open for more days, accessible to all voters countywide and provide enhanced voter services. VCA counties are also required to provide ballot drop boxes and to send every registered voter a vote-by-mail ballot, with the exception of Los Angeles, where the law permits the county to phase in 100 percent mail ballot delivery. The other VCA counties are Butte, Nevada, El Dorado, Sacramento, Amador, Calaveras, Tuolumne, Mariposa, Madera, Fresno, Napa, San Mateo, Santa Clara, and Orange. Learn more at Voterschoice.org. 
4. Three out of four California voters have been issued vote-by-mail ballots. According to Political Data, Inc. 16 million mail ballots have been sent to registered voters. The increase is due in part to VCA implementation and also to the high rate of voters registered as permanent vote-by-mail voters throughout California. Voters who received mail ballots that do not include the presidential candidate of their choice can request a different ballot and update their party preference if needed at voting sites and county election offices. 
5. On average, one out of every 100 vote-by-mail ballots cast is rejected. The top reasons for rejection are arriving too late, voters forgetting to sign their mail ballot envelope, or their signature not sufficiently matching their signature on file. California law now requires counties to contact voters with missing or mismatched signatures and request a valid signature be submitted so their ballots will be counted instead of rejected.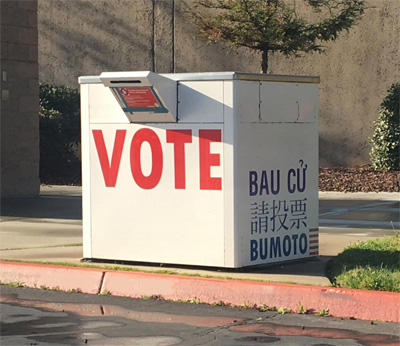 6. Voters do not have to return vote-by-mail ballots through the mail. California law requires ballots to be postmarked by Election Day and received within three days of the election in order to be counted. The law also requires counties to provide pre-paid postage ballot return envelopes. Voters who do not want to risk having their ballots rejected for arriving too late are encouraged to return them in person to any drop box or voting site. 
7. Voters have access to online lookup tools to help them with the voting process. The Secretary of State, as well as numerous counties, offer online tools to help voters locate voting sites or check their party registration or vote-by-mail ballot status. A new ballot tracking service, "Where's My Ballot?", is available in 25 counties. Voters who sign up will be notified by email or text of their mail ballot delivery status. 
8. Many counties are debuting new voting equipment this election. Most prominently, Los Angeles County is debuting Voting Systems for All People, or VSAP, a new ballot marking device voting system that was developed by the county. It was certified by the Secretary of State in January with numerous conditions, including a requirement that blank paper ballots be available at all 977 voting sites and that verbal instructions be given to voters to review the paper ballot issued by the ballot marking device to make sure it correctly reflects their choices before casting it.
9. Voters with questions or concerns should contact their county election office. Contact information and links to county lookup tools are available from CVF's Directory of County Election Offices. In addition, the Secretary of State offers a hotline, 800-345-VOTE, and voter advocacy groups provide the Election Protection Hotline, 866-OUR-VOTE.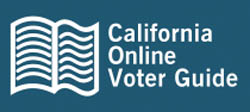 10. Voters and the media can find additional information online at www.calvoter.org. The California Voter Foundation has been providing nonpartisan information to California voters since 1994 and the nonprofit organization's recently redesigned web site features essential voter resources, such as the California Online Voter Guide, Voter's Edge from the League of Women Voters and Maplight, CVF's Voting FAQ, and the Directory of County Election Offices. Check out the 25-year anniversary video CVF created to learn more about its role advancing the internet as a tool for voter education.
For More Information: 
Contact Kim Alexander, kimalex@calvoter.org, 916-441-2494